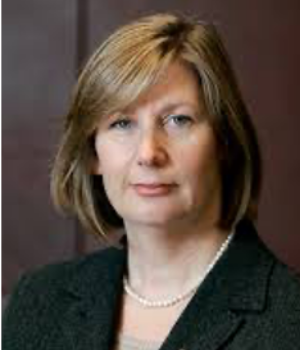 Human+ Programme Supervisor
McCann FitzGerald Chair in Corporate Law
Research Theme: Examining regulation and governance in Big Tech companies
Keywords: Big Tech, regulation, governance, accountability, trust
Biography:
Professor Blanaid Clarke BCL, MBS (Banking & Finance), Barrister-at-Law, PhD, Fellow Trinity College Dublin. Professor Clarke holds the McCann FitzGerald Chair in Corporate Law at Trinity College Dublin. Her academic interests include corporate law; corporate governance; business ethics and culture; mergers and takeovers; and financial services law.
Recent publications include: "The Impact of Cultural Reforms in Banks on their responses to the Covid-19 Pandemic", a chapter in Pandemic Crisis and Financial Stability (EBI, 2020); "Unmasking directors and shareholders to prevent the abuse of companies", a chapter in Abuse of companies (Kluwer, 2019); and "The EU as norm creator for sustainable corporate groups?", a chapter in Cambridge Handbook of Corporate Law, Corporate Governance and Sustainability (OUP, 2019).
Professor Clarke is currently researching three related areas: mechanisms of governance and accountability in Big Tech companies; fitness and probity regimes; and the proposed regulation of senior executive accountability in Ireland. Her research seeks to identify the public policy implications of legal and inter-disciplinary scholarship in these fields. Blanaid is the Irish representative on the OECD's Corporate Governance Committee. She is also a member of the European Securities and Market's (ESMA's) Takeover Bids Network and a Vice President of the Academic Board of the European Banking Institute in Frankfurt. She is also Deputy Chairman of the Irish Banking Culture Board, Previously, she was a member of the Irish Central Bank Commission, ESMA's Securities Markets Stakeholder Group, the European Commission's Informal Expert Group on Company Law and its Reflection Group on the Future of EU Company Law.