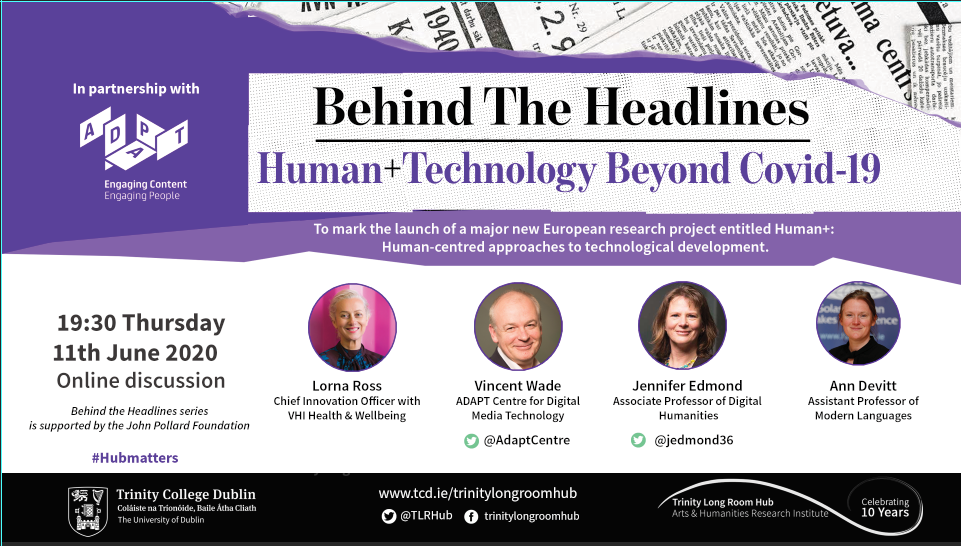 As we move exclusively online for work, education and communication, our latest Behind the Headlines discussion explores how the Covid-19 pandemic has accelerated the immersion of technology into our lives.
Covid-19 has given us a glimpse of what a technological-based future might look like. As society applies technology to recover from global events that trigger a shift in human thinking and behaviour, it is clear that the fundamental issues that we face today cannot be solved by one discipline, industry or approach alone. Amplified by social isolation, there has never been a better time to consider the implications of these virtual environments on human societies, both in the present crisis and beyond Covid-19. Our expert panel will explore a human-centred approach to technology innovation; how it can empower and disempower; and why technological design must begin and end with the human experience at the fore.
This discussion will mark the start of a new five year programme in Trinity, HUMAN+, cofunded by the European Commission's Horizon 2020 Marie Slodowska-Curie Actions. The programme will appoint international researchers from across the arts, humanities and computer sciences to work together and with enterprise partners to develop human centric approaches to technology innovation that will have long term benefits for society. HUMAN+ is led by the Trinity Long Room Hub Arts and Humanities Research Institute and ADAPT, the Science Foundation Ireland Centre for Digital Content Innovation at Trinity College Dublin.