"Do you consider avatars as humans?"
Moderator Jess Majekodunmi, Director of the Human Sciences Studio at Accenture, asked the above question to kick-off the second Human+ Tech Talk held in the Trinity Long Room Hub Arts and Humanities Research Institute on September 27, 2022. The compelling topic of the Tech Talk – 'Your Avatar and You: Identity and Behaviour in the Digital World' – was explored from an interdisciplinary lens by experts from both the creative arts and computer science backgrounds.
The panel included Dr Kata Szita, the Human+ fellow working on this topic; Dr Jennifer O'Meara, Assistant Professor in Film Studies at Trinity College Dublin; and Dr Aljosa Smolic, lecturer in AR/VR at Lucerne University of Applied Sciences and Arts.
Approaching the question from her own research area involving the cognitive and behavioural impacts of immersive digital media technologies, Dr Szita said, "It's easy to hide behind digital personas. In many cases, it's hard to find out whether the digital persona is the real person or whether it is just the person's imaginary representation of themselves". She further illustrated how the interrelation between aesthetics, technology, and behaviour, is heightened in specific contexts such as the workplace. For instance, if someone adopted the avatar of a cat on a work call, how would it affect the behaviour of people in the setting? What kind of change in reaction, perception and cognition would it cause?
The discussion was carried forward by Dr Jennifer O'Meara from a film studies and screen studies aspect, borrowing ideas and examples from subject areas such as art history, experimental cinematography and film costumes. She urged attendees to see digital avatars as a form of digital costume and think about the opportunities it can present in transforming the way our bodies are represented. Digital avatars can affect us the same way wearing a costume can; by impacting our behaviour, cognition and perception, especially depending on the context in which such digital costumes are adopted. She brought her presentation to a close by raising an important question, "Even though digital avatars can help you take on different bodies or costumes, whether it is different ethnicities, genders or races, should you be doing it? In doing so, would you be representing people or communities at the surface level without giving others the space to represent their own lived experiences?"
Her presentation was followed by a talk by Dr Aljosa Smolic, Lecturer in AR/VR at Lucerne University of Applied Sciences and Arts, who deliberated on the future of XR (Extended Reality). Through a series of experiments created in partnership with Trinity College Dublin and other enterprise partners, Dr Aljosa spoke about the decision-making that happens in one's mind when one creates their digital avatar. He also emphasised the transition towards photorealism in XR technologies as the upcoming trend in this space. Nevertheless, while highlighting the drawbacks of such technology and emphasising the importance of ethical considerations, he added, "One issue with photorealism is fake news, and that can raise a lot of ethical questions, especially when photorealistic holograms become more commonplace."
The panel also answered some compelling questions from both the moderator and the audience. From how digital avatars can affect the grieving process to the unprecedented ways in which digital personas can impact the lives of teenagers, this second Tech Talk left attendees with fascinating new ways of understanding digital avatars from both a technological and humanistic point of view.
Want to attend the next Tech Talk for other interesting discussions on equally compelling topics? See the full schedule below.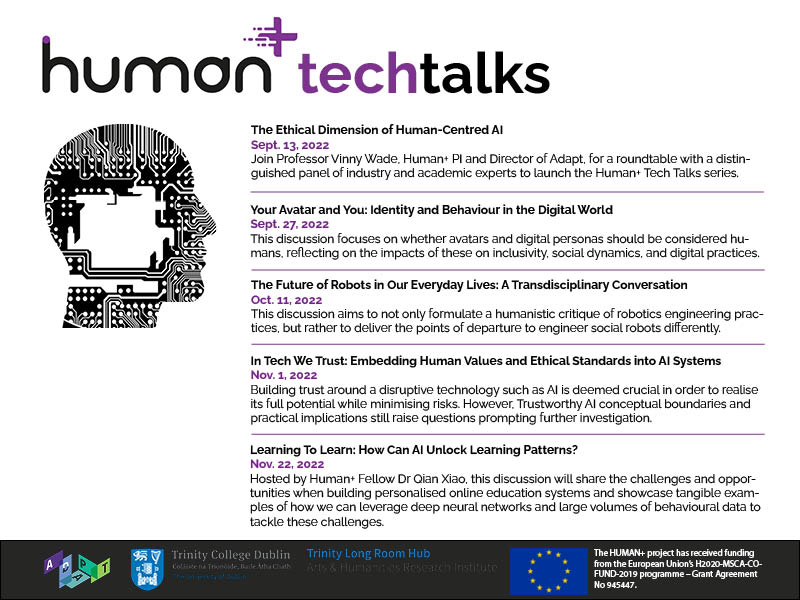 Sign up with the link below to attend the next Human+ Tech Talk on the topic – The Future of Robots in Our Everyday Lives: A Transdisciplinary Discussion, to be held on October 11 at 1 pm.
Human+ is a five-year international, inter- and transdisciplinary fellowship programme conducting groundbreaking research addressing human-centric approaches to technology development. Human+ is led by the Trinity Long Room Hub Arts and Humanities Research Institute and ADAPT, the Science Foundation Ireland Centre for Digital Content Innovation, at Trinity College Dublin. The programme is further supported by unique relationships with HUMAN+ Enterprise Partners.
The HUMAN+ project has received funding from the European Union's Horizon 2020 research and innovation programme under the Marie Skłodowska-Curie grant agreement No 945447.
For more information about Dr Szita's work, continue reading.